We have just launched a range of anti microbial disinfectants from Saloncide solutions UK.  These are highly effective and have been tested for over 10 years. They conform to recommended standards of health and safety executive and supports adherence to COSHH requirements.  They are also odour and alcohol free.
Saloncide – alcohol free disinfection
Saloncide has been specifically developed to provide Hairdressers, beauty salons and Tattooists with safe, effective and long lasting alcohol free disinfection.
EQUIPMENT/DISINFECTANT
READY FOR USE SPRAY
Saloncide addresses the issue raised by the Health & Safety Executive that "Alcohol-based disinfection is less suitable for items contaminated with blood, skin & nail dust" and the requirement that
"the disinfectant must be capable of inactivating bacteria and blood borne viruses" This equipment sanitiser is a ready for use solution, supplied in 750ml trigger spray containers, that achieves a 99.998% reduction in bacteria and blood borne viruses, such as Hepatitis and HIV, within 30 seconds
Equipment is safe and ready to use on customers almost immediately after Saloncide has been applied saving time and meaning there is little "down time" waiting for equipment to be disinfected.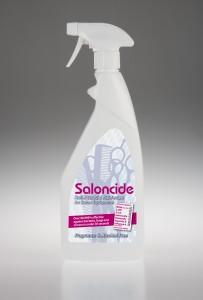 What is Saloncide?
Saloncide is a water based solution for the disinfection of salon equipment, proven in tests to British Standards EN1276 and EN1650 to deliver many advantages over traditional methods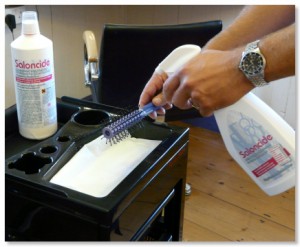 How effective is Saloncide?
Independent tests show that Saloncide kills more than 99.998% of organisms tested in less than 30 seconds and in some cases the level achieved is better than 99.998% in this time. Many alternative disinfectants only kill up to 99.9% of germs within around 4 minutes or longer.
Why is 99.998% Important?
Bacteria are single celled organisms which divide rapidly, developing into groups or colonies. Disinfectants which kill only 99.9% (1in 1,000) leave enough cells for them to recover quickly. At above 99.998%, less than 1 in 100,000 cells remain, which is a level at which the population is no longer viable.Saloncide further reduces the risk of recovery by creating a surface environment which bacteria cannot easily attach to, giving protection which carries on after cleaning has finished.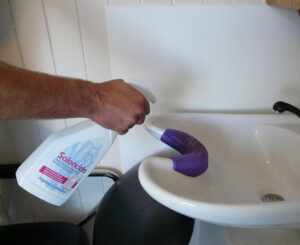 Why is 30 seconds important?
Where sanitisers have a long contact time, the disinfectant has usually evaporated or been wiped away before it has time to work. Because Saloncide is fast acting, bugs are killed almost as soon as the product is applied. Being water based, Saloncide evaporates slowly and, unlike other disinfectants, it carries on working after the surface is dry.
Is Saloncide safe on my skin?
Saloncide has the same chemical hazard rating as water. Unlike most sanitisers it contains no alcohol, bleach or acids so does not dry out skin.
Does Saloncide damage surfaces?
No – despite its germ-killing power, using Saloncide is no more likely to damage surfaces than using water. It does not cause discolouration (like bleach) or surface cracking (like alcohol). Even fabrics, leather and plastics can all safely be treated with Saloncide.
Is Saloncide environmentally friendly?
Yes. Saloncide is an environmentally friendly product, safe to use and safe for the environment. The technology behind Saloncide allows active chemicals to work in minute quantities which is why it has such a low chemical hazard rating (equivalent to water).
What does Saloncide kill?
Saloncide kills a very wide range of bacteria, fungi and viruses:
Anti-Microbial Activity of Saloncide
Sample of Organisms and Groups successfully tested (various strains)
Bacterial Groups Fungi/Mould Groups Viruses
Bacillus Licheniformis Aspergillus niger Influenza type A*
Bacillus subtilis Aspergillus versicolor Hepatitis B
Campylobacter jejuni
Aureobasidium
pullulans
HIV-1
Clostridium
perfringens
Candida albicans
Mycobacteriophage D29
(TB surrogate)
Corynebacterium
pseudo-diptheriae
Cladosporium
cladosporioides
Bacteriophage 36
Escherichia coli
Penicillium
purpurogenum
Bacteriophage 37
Escherichia coli
0157:H7
Phoma violacea
Mycobacterium
Smegmatis MSR5
(Tuberculosis)
Enterococcus hirae Pleurococcus spp
Enterococcus faecalis Rhodotorula rubra
Klebsiella pneumoniae
Sporobolomyces
roseus
Legionella
pneumophila
Stachybotrys
chartarum
Listeria
monocytogenes
Stichococcus bacillaris
Methicillin Resistant
Staph. aureus (MRSa)
Stigeoclonium tenue
Pseudomonas
aeruginosa
Trentepohlia aurea
Salmonella enteritidis Trentepohlia odorata
Salmonella
choleraesuis
Staphylococcus
aureus
* Includes H1N1 Swine Flu as a "sub-type"
Comparison between Saloncide™ and the market leader
Saloncide Market leader
Spray & leave method no rinsing required (excluding scissors)
Log factor 4. Kills 99.998% of bacteria, fungicide & viruses every time!
Same hazard rating as water!
Works within 30 seconds!
Remains active for up to 3 days on surfaces!
Works effectively without submerging for 10 minutes!
Leaves skin moist without causing dryness/irritation & doesn't damage nails!
Ph neutral! (Distilled water)