Are you ready to illuminate your vibrance?
Do you want natural highlights and shiny hair? Go ahead and ask your hairdresser which of the following treatments is most suitable for you.
The hair colour revolution continues as the extraordinary qualities of milk_shake's illuminate range are exposed to Maltese hairdressers in another seminar organised by Cortex. On Monday, 26th February 2018, twenty-five local hairdressers attended the presentations, demonstrations and practical sessions held at the Radisson Blue in St Julians.
The hairdressers could explore three solutions that were created by z.one concept research laboratories to enhance a cut or style through tone and colour. They could experience the added radiance, contrast and depth that can be created with extraordinary ease of application and natural results.
Enhance a cut or style through tone and colour
The new milk_shake® illuminate range gently lightens hair and adds a touch of colour during styling with instant results by using a flat iron on dry hair.
milk_shake® illuminate quick light – customise and enhance a hairstyle with creative chromatic effects with a new tone enhancing styling process resulting in playful colour and glossy hair.
milk_shake® illuminate quick colour light – create intense lightening effects with a natural ombre effect resulting in sun-kissed looks and healthy hair.
milk_shake® illuminate light touch – add nourishment, shine and tones to your hair colour by combining your lightening treatment with a milk_shake® cocktail treatment.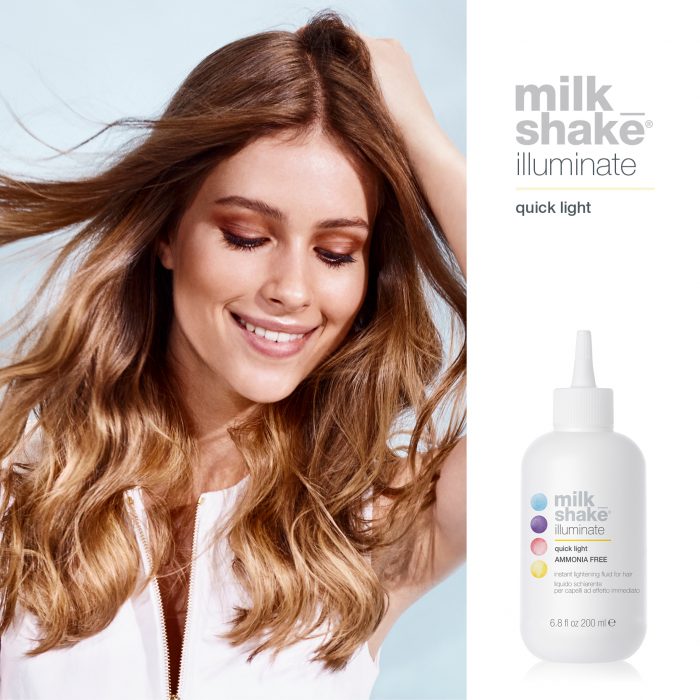 The gentle lightening process creates a delicate illuminating effect on hair thanks to the following active ingredients:
Hydrolyzed keratin replenishes and strengthens hair, offering deep conditioning and protection.
Panthenol hydrates conditions and regenerates to give hair a healthier appearance.
Thermo-protector gently protects the hair fibre during straightening and protects hair colour.
Plant oils protect, nourish and condition hair.
Fruit extracts condition and revitalise hair.
Do you like what you see? Ask your hairdresser about milk_shake® illuminate today.
Are you a hairdresser? Join the revolution. Contact us.