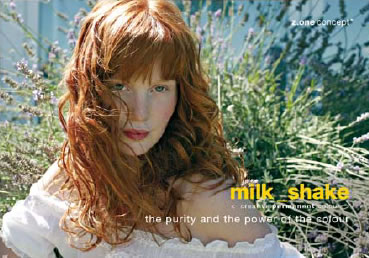 Launch Date: 3rd March 2008.
Place & Time: SaS Radisson Bay Point Resort San Giljan
A new hair colouring technology and an innovative approach to permanent colouring.
A creative permanent colour based on nanotechnology. An oxidation dye that can permanently transform the natural pigmentation of the hair, giving rise to an unbelievable shininess as well as to intensive, vibrant colours. Intensive, uniform and long-lasting results with rich, shiny tones are ensured by the NanoBioGenius Technology.
Milk Shake permanent colourse are enriched with sunflower oil and fruit extracts (mango, tangerine and raspberry) thanks to a very low ammonia content and a medium pH value, it has a nice honey fragrancy and leaving hair shiny, vital well conditioned and markedly dyed.
Includes a patented complex called Integrity 41® (Heliantus annuus) as an antioxidizing mix which shall make the dye last longer.
Education will be given by Z.one Concept Technical Director Abla Barka. On attendance every salon will recieve a sample pack of colours to try.