Description
A lot can happen in 60 seconds, including turning your dry and damaged beard into a nourished and more repaired one.
This is thanks to our Rich Repair 60 second Conditioning Treatment, an ultra-fast intensive-care treatment that will leave your beard feeling smooth and visibly enhanced.
A luxurious treatment that easily integrates into your weekly maintenance regimen. This hydrating treatment deeply conditions, leaving your beard soft, lustrous, hydrated and moisturised.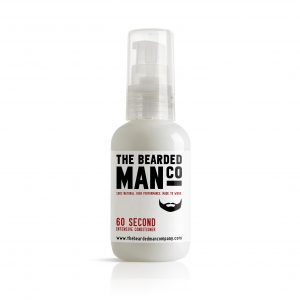 Method
Distribute The Bearded Man Company's Conditioning Repair 60 second Treatment through shampooed hair and leave on for 60 seconds. Rinse Thoroughly.
Why it works
The Bearded Man Company's Rich Repair 60 second treatment contains, as part of its repair system, Shea Milk Proteins to give hair a luxurious silky, smooth feeling while Noni Extracts ensures results are instant and visible.
This hydrating formula is a powerhouse of potent, targeted and fast acting ingredients. Free from parabens, silicone and sodium laureth sulphate.